Company profile
Ekotec Sistemi deals with industrial automation, safety and security, fire-fighting, anti-theft, video surveillance and home automation systems. We are a service company involved in the integration and implementation of systems, maintenance and development of solutions for industrial machinery automation. Our offices are located in Parma. There are 35 people working in Ekotec. A strong team including installers, designers, maintenance technicians, administration employees. We have grown up together, working along the Via Emilia axis, from Bologna to Milan, promoting our company in the fields of safety and security, industrial automation and firefighting equipment. Then our systems reached the four corners of the world. Ekotec has the UNI EN ISO 9001 certification and achieved the SOA certificate for public tendering procedures.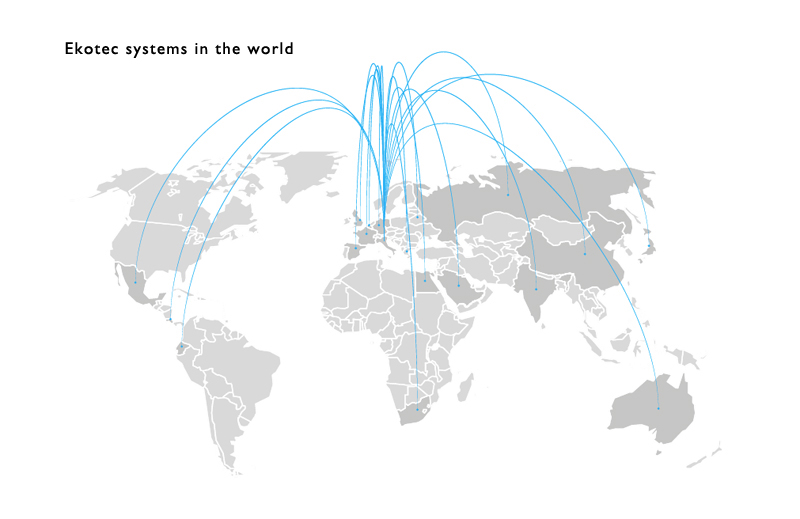 Our history
With over 35 years' experience, we provide both individual, public institutions, and companies with customized solutions even in the most complex situations.
His name is Svìc and he is our mascotte
He is a very special character, you'll know! We found him going around here in Ekotec and we decided to adopt him. Now he became our mascotte. Where does he come from? Sincerely, we still don't know for sure.
Foundation
We started our business in 1980, handling design, installation, maintenance and assistance on anti-theft, video surveillance, access control, gas and fire detection systems.
Building automation
In 1992, by means of those skills, we developed building automation projects, increasingly articulated. We helped to turn into real what was only an idea on paper: smart buildings, where the structure management occurs through digitalized supervision of integrated security, regulation and technological control systems.
Integrated solutions for businesses
In those years, Ekotec began to operate in the industrial automation sector. Parma is the capital city of food technologies and the perfect location of the largest national companies in the field. It was therefore only natural that we broadened our skills towards automated processes of food industry. Electrical engineering, production of electrical panels, as well as control and supervision software applications for production processes. These tasks have been assigned to Ekotec by local companies which produce and sell food industry machinery and systems throughout the world. We have faced this task with passion and dedication, providing the companies with cutting-edge technology for machinery and process management. In a few years, Ekotec solutions attained industrial plants of other sectors: pharmaceutical, chemical, but also reclamation and purification plants. In this spirit, we faced successful interventions of revamping and modernization of existing systems. Ekotec has thus become a point of reference for system and machinery automation.
Fire safety solutions
In 2005, Ekotec developed the Fire Safety division and entered the market of services concerning fire-fighting equipment.
Solutions and automation for Oil&Gas
In 2011, new horizons were to be explored. Ekotec then entered a new phase in its history, by implementing safety & security and automation in the Oil & Gas field. Our first control systems based on explosion-proof cameras are installed on Drillmec's oil drilling towers, in order to facilitate drilling operations. The company has now a global view, the absolute capability to meet Client's needs and provide a constant support.
DANCE OF THE CAMERAS
When technology becomes art